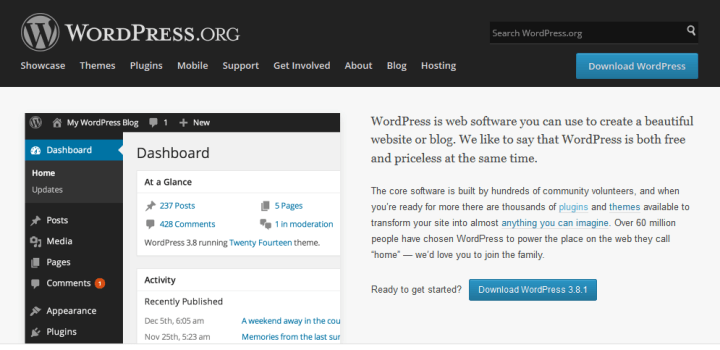 Have you ever searched for, "how to design a website"?
If so, you are not alone.  With websites popping up all over the place promoting that you can build your own website for free, you would think that it would be a walk in the park.
Not necessarily so!
So where should one start if they want to design their own website?  I'm kind of biased, but if I were to tell you how to design your own website I would point you straight to WordPress.
WordPress has been around for many years and started out as strictly a blogging platform.  Fast forward to 2014 and that isn't the case anymore.  WordPress has quickly become one of the top website design platforms out there today.  With its CMS (Content Management System) and with the 1,000's of themes available online more and more companies and individuals are turning to it for their website needs.
I have been building websites for clients with WordPress for the past 5+ years and feel there is no better choice for someone who is just getting started.  So, with that said, how can you get started designing your own website?
First, let me preface this by saying, this is not for everyone.  I wish I could tell you it is a piece of cake, but it is not.  There is a learning curve and there will have to be a fair amount of time invested to make it work, but if you are one of those willing to do that then this is how you can get started.
How to Design a Website
Decide on your domain name and purchase it through a domain registrar like GoDaddy.
Decide on a hosting company to house your site (my preferred host is HostGator).
Point your new domain to your hosting account.
Install WordPress through your hosting account.
Login to your new website (ex. http://yourdomain.com/wp-admin/) and choose a theme.

WordPress comes with a couple pre-installed themes that you can start with or you can upload one of thousands of free or premium themes.
My personal preference is a premium theme from StudioPress.  These themes are, IMHO, the best of the best.
You can use these themes just as they are to get your site up and running or if you are adventurous you can read up on how to modify your particular theme.

Once your theme is installed you are ready to start adding the pieces of the puzzle (plugins, widgets, content, navigation, links, etc…).
Work on your sites SEO (Search Engine Optimization) to drive traffic to your new site.
Ok, there you have a very abbreviated run down on how to design your own website.  Even though it looks quite simple, I want to warn you that it will take some learning and frustration (I have plenty of experience with that) to get your first site up and going.  But, if you are the type of person who likes to do-it-yourself then once you finally get it all figured out you will hopefully feel very rewarded.
Since this is just a quick run down on the basics of getting your first website up and running, stay tuned as I will take each of the bullet points above and break them down into their own blog post to help you better understand the process.
Now, for those of you who I have just totally lost and you feel totally overwhelmed there is another solution…
You can hire a web designer (me 🙂 ) to get your new site up and going.
If you are looking for an affordable solution to your website needs please take a look at my website packages.  I offer everything from a simple install of WordPress and a premium theme to a custom design for a small business.  Whatever your needs are I would love to visit with you to see if I might be able to help.  Please contact me and I will call or email you to set-up a free consultation.
Stay tuned for more great information to come!