I love working with clients I already have a relationship with.  Cary Carlson with Classic Lawns was my lawn guy first before I became his web designer.  He came highly recommended to me by my neighbors, so I had to give him a call to see if he could help save my lawn that was going downhill quickly.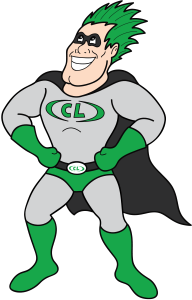 Boy did he!
My lawn hasn't looked this good since we moved in over 11 years ago.  I can honestly say that Cary's knowledge of lawns has made all the difference.  Finally my wife has a lawn she actually can appreciate.
Cary and I started to visit about his website shortly after he started my lawncare treatments.  His web designer at the time was getting out of the design business, so Cary was looking for someone to update his site and make it current.  He was wanting a website that was mobile responsive and one that helped keep his branding of Classic Lawns at the forefront.
He has done a great job of building a lawncare business through excellent marketing and the development of some great characters that bring his brand to life.  You really have to check out his site to appreciate all the work he has put into his brand and his "Grassman" character and the supporting cast.
I had a great time working on this project.  It is always enjoyable to hear others share their passion about their businesses and then take on the challenge to help them reach the online world.  Working with Cary was exactly that.  He really understands lawns and the proof is in the lawns he works on.
For all your lawn care needs in and around the Springfield, MO area I highly recommend Cary at Classic Lawns.  Visit his website at http://getagreenerlawn.com or give him a call today at (417) 766-1807.